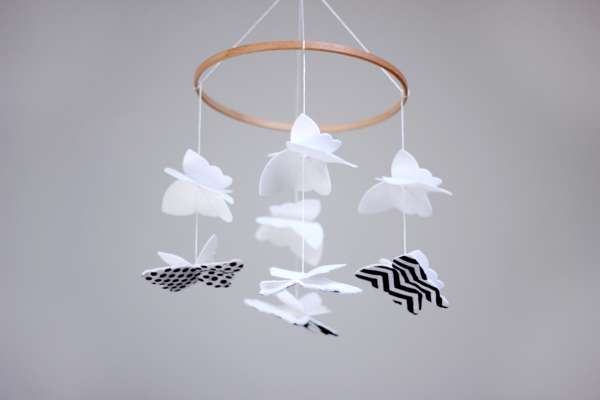 Butterfly 8
Free UK postage & removable ceiling hook included!
White butterfly mobile made with 8 felt butterflies. The lower 4 butterflies' tummies are each designed with a high contrast geometric pattern to mesmerise a young baby. From above (the 'parents' view), you see beautiful white butterflies, designed to blend in with any nursery.
We make high-contrast baby mobiles specifically designed for young babies' vision as they can't yet see colour. In the womb, your baby's eyes are drawn to where light and dark meet. Once born, they are enchanted by simple, bold patterns.
Stylish and practical, our mobiles are best hung above your changing area to make nappy time a happy time. It's the perfect gift for a baby shower or christening, or to welcome your new baby to their nursery.
OUR STORY
When my daughter was born, I couldn't find any baby mobiles she'd actually be able to see - and that I'd be pleased to hang in her nursery. So, I made her one. Positioned above her change table, it helped distract her and got us through many a nappy change!
DIMENSIONS, MATERIALS AND POSTAGE
Our mobiles are designed and handmade by me from our home. They come beatifully wrapped in a luxury gift box.
Measures approx 45cm high by 23cm wide. Each butterfly is 11x8cm.
Supplied with 300cm of invisible wire to hang from ceiling and with a ceiling hook ('Command Party Ceiling Hook') that has a simple 'sticky tab' to install and can be removed at a later date with no damage.
The mobile is not a toy so please ensure it is hung away from the reach of your baby.
The mobile is made with 100% acrylic felt so it is safe for babies with allergies to fabrics such as wool. This felt meets the new 2013 EN 71 3 chemical requirements of the EU Toy Safety Directive (2009 48 EC).
UK orders are sent Royal Mail 2nd Class. All non-UK orders are sent Royal Mail International. Please contact me if you'd like a rush order, I can normally make that happen!